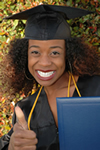 An effective resume is essential for recent graduates. Most of the time, you will be looking for your first job in the profession you have chosen and a good resume can help you to land that dream job.
A well-defined resume is critical for entry-level school graduates because it is a reflection of your professional identity and future goals. Although your work experience may be limited, showing the jobs you have held indicates your ability to find employment and succeed in a work environment.
Additionally, prospective employees want to see a specific objective listed in entry-level resumes. This is actually the most important feature of an entry-level resume because it specifically states your goals and objectives when seeking employment. Employers will know what you want, which helps you to actually get that desirable job.
Your resume will also outline your educational background. Certain educational requirements may be preferred to secure the job you want and listing your educational accomplishments shows your dedication to entering a particular profession.
A great way to ensure your resume will stand out from the rest is to have it prepared by a professional resume writer who is familiar with what employers want. After spending so much money on your education, paying for a resume writer is a worthy investment in your professional future because it can make the difference between outstanding and mediocre employment when seeking your first job.
Email This Post To A Friend
Leave a Reply