Getting that first interview after graduation is an exciting and sometimes daunting experience. Being considered for that first professional experience is a coming of age experience, and needs to be taken very seriously.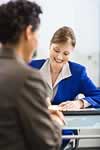 First remember that your resume has already done its primary job in acquiring the interview for you and presenting a positive first impression. It is now up to you to sell yourself. Do this be being prepared. Make sure that you have some knowledge of the company. Check out their website on the Internet, or go to the library and ask a research librarian to help you find out a little bit about the history of the company. Practice responding to a few commonly asked questions in front of a mirror, or go through mock interviews with friends or family members to get over the initial nervousness that is common.
Also remember to dress for success. Conservative clothes, neat haircut or hairstyle, neutral colors, only moderate makeup for women, and ensure that no tattoos or piercings show if you have any. Be five minutes early for the interview, and then try to relax. You need to be yourself and remember that you are also making sure that the company is right for you. Have a good conversation, and end it by presenting your references, offering a firm handshake, and stating that you are available should the hiring manager have any other questions.
Email This Post To A Friend
Leave a Reply